Blues Band, The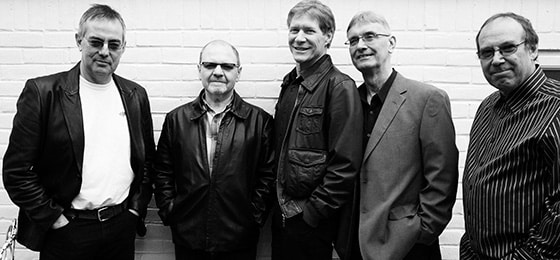 When the Blues Band got together in 1979, they caused a sensation that astonished both the group and the record industry. Fans flocked to hear Paul Jones, Tom McGuinness and pals playing R&B with all the enthusiasm inherited from their days together with Manfred Mann in the Sixties.
The new group quickly found itself signed to a major label and this proved the start of a long career that yielded many fine albums. The original line up consisted of Paul Jones, vocals and harmonica, Tom McGuinness guitar, Dave Kelly, slide guitar, Gary Fletcher bass and Hughie Flint, later replaced by Rob Townsend on drums.
The band started with just two gigs at the 'Bridge House' a north London pub. Recalls Tom: "It sort of mushroomed in the most surprising way. Often a lot of the best things in life happen by chance. After one night at the Bridge House all our phones started ringing."
The new outfit then acquired a manager and decided to bootleg their own album putting out one thousand copies in a plain white sleeve. They numbered and signed them by hand and sold them all at gigs. It became known as the 'Official Blues Band Bootleg Album' to be re-issued on Repertoire CD along with several other BB classics. The group have released over 20 albums over three decades and are still going strong.
Find out more about The Blue Band on their website
Releases
Videos
Events
February 04/02/2016 @ The Octagon – Yeovil, UK 05/02/2016 @ Guild Hall – Preston, […]