Thank You Brother Ray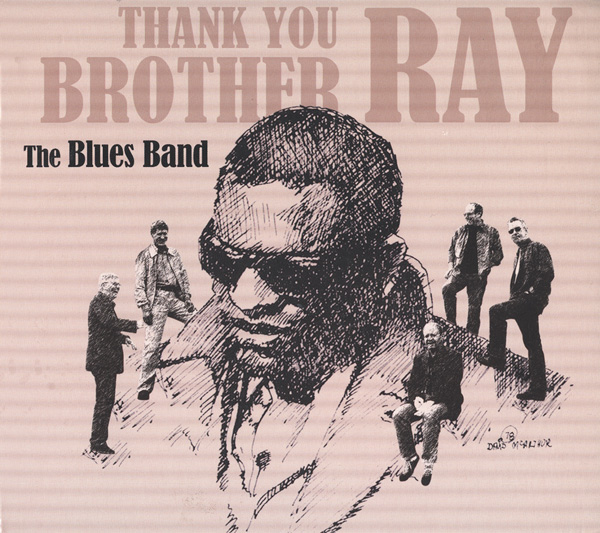 Thank You Brother Ray
The Blues Band - Paul Jones, Tom McGuinness, Dave Kelly, Gary Fletcher and Rob Townsend, critically acknowledged since 1979 as Europe's finest purveyors of Blues, pay tribute to one of their inspirational icons, Ray Charles.
Tracks feature guest artists Jools Holland, legendary John Mayall drummer Hughie Flint, keyboard wizards Geraint Watkins, Dino Baptiste and Lou Stonebridge.
Songs include Ray Charles classics 'Georgia On My Mind', 'Hallelujah I Love Her So', 'Busted', 'Lonely Avenue' and 'Let The Good Times Roll', plus the special title song written by Paul Jones and Tom McGuinness dedicated to their hero, 'Thank You Brother Ray'.
Detailed, booklet by veteran Blues Matters magazine writer and Blues Band archivist Roy Bainton, with thoroughly researched and fascinating background on each song, including full comments from Blues Band members.
Fifteen superb performances by a quintet of R&B veterans who, live or in the studio, truly deserve their well-earned 'legend' status - and are still going strong after 35 years on the road.
Expertly remastered by Jon Astley (who has worked on recordings by the Who, Led Zeppelin, George Harrison and many others). Superb sound – the best in the business!
Tracklist
Originally released as (Germany)
Pepper Cake / Zyx Music PEC 2016-2, p.2006
Track 3: Recorded 'live' at The Jubez Theater, Karlsruhe, Germany October 2000. Originally released on 'Scratching On My Screen' (2001).
Track 5: Originally released on 'Ready' (1980).
Track 6: Recorded 'live' at the The Snape Maltings August 1994. Originally released on 'Wireless' (1994).
Track 8: Originally released on 'Ready' (1980).
Track 12: Originally released as a Dave Kelly single on Bellaphon, 1980
Track 14: Originally released on 'Homage' 1993.
More Releases from Blues Band, The