Robin Trower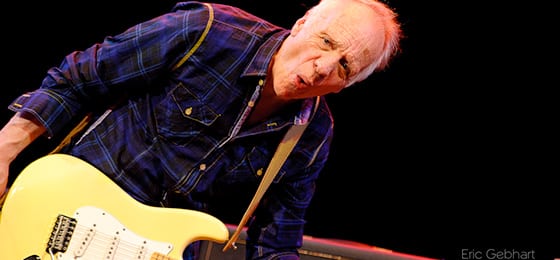 Robin Trower is one of the most distinctive of all the great lead guitarists who emerged to gain worldwide success during the 1970s. Adept at creating moods and improvising with taste and discretion, his style quickly gained popularity in Britain, Europe and America as he toured with his own group and unleashed a succession of best-selling albums.
Robin was born in London, England on March 9, 1947. He spent his early years playing guitar with the Paramounts an R&B band from Southend, Essex alongside keyboard player Gary Brooker. Later on he joined Gary in his new group Procol Harum when they enjoyed a big hit with 'A Whiter Shade Of Pale'. By 1971 he was keen to move on and started his own group called Jude with singer Frankie Miller.
When this broke up he founded the Robin Trower Band with Reg Isadore on drums. The new trio was a great success and released such hit albums as 'Bridge Of Sighs' (1974). They were very popular in America and he continued touring and recording mainly for Chrysalis throughout the Seventies.
He then teamed up with former Cream bass guitarist Jack Bruce to form BLT in 1981. In 2003 Robin released a new album 'Living Out Of Time' and embarked on a world tour in 2008, the year that his album 'Seven Moons' first shone over the horizon. In 2010 he released 'The Playful Heart' that followed on from 'What Lies Beneath' and both albums featured his emotional guitar work and vocals. In 2011 he toured the US and Europe and is due to perform dates in the Netherlands and Germany in March 2012.
Find out more about Robin Trower in his website
Releases
Videos