Rock Goes to College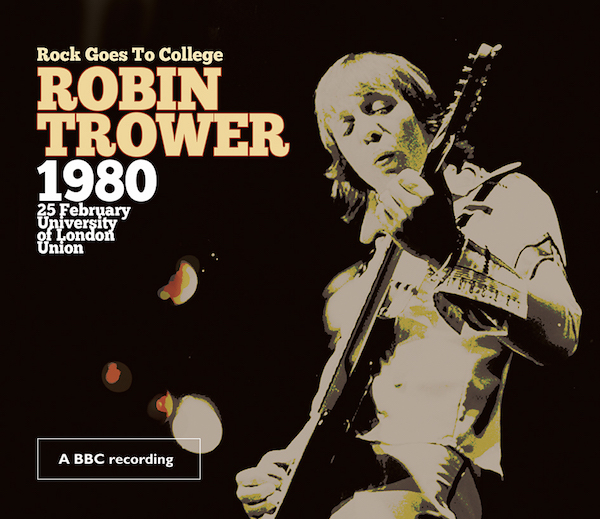 Rock Goes to College
A BRAND NEW REPERTOIRE SERIES, SOURCED FROM THE BBC ARCHIVES
RESTORED CONCERT PERFORMANCE on REGION FREE NTSC DVD: (Audio selection of Stereo and 5.1 Surround Sound)
REMASTERED STEREO SOUNDTRACK CD
12-PAGE BOOKLET WITH AUTHORITATIVE LINER NOTES
PERFORMANCE DATE: Live from the University Of London Union, United Kingdom 25th February, 1980
Rock Goes To College was a BBC series that first ran between 1978 and 1981 on British television. Upcoming rock bands were showcased, and it was broadcast 'live' from small venues at University, Polytechnic and College halls, where tickets were often given free to students, ensuring a full capacity attendance and lively atmosphere.
Each performance would be a 40-50 minute set, and the original 'Sight & Sound' broadcasts were transmitted simultaneously on BBC TV and in Stereo on BBC Radio One.
Ex-Procol Harum guitarist Robin Trower was already well established as a solo artist by 1980, with 7 albums already out and one currently in active promotion. He was also a regular act on the UK college circuit throughout the 1970s.
The London University gig captures the extraordinary skills of this now revered guitar legend at his peak.
Authoritative liner notes by Blues Matters magazine founder Alan Pearce and Pete Sargeant.
Tracklist
DVD:
Live from the University Of London Union, United Kingdom, 25th February, 1980
1. Intro
2. Day Of The Eagle
3. The Ring
4. Bridge Of Sighs
5. Too Rolling Stoned
6. The Shout / Hannah
7. Daydream
8. Victims Of The Fury
9. Little Bit Of Sympathy
DVD running time: Approx. 40 mins Region Free NTSC DVD. Audio selection of Stereo and 5.1 surround sound
CD:
Live from the University Of London Union, United Kingdom, 25th February, 1980
1. Day Of The Eagle
2. The Ring
3. Bridge Of Sighs
4. Too Rolling Stoned
5. The Shout / Hannah
6. Daydream
7. Victims Of The Fury
8. Little Bit Of Sympathy
Soundtrack in Remastered Stereo
More Releases from Robin Trower