Live At the BBC: Rock Goes College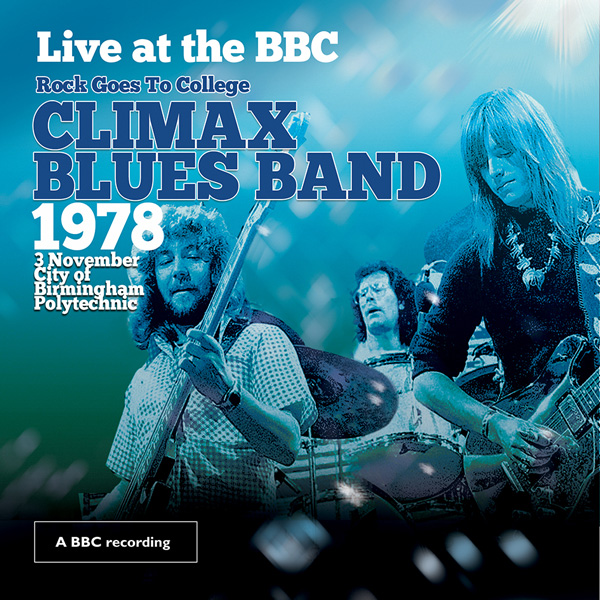 Live At the BBC: Rock Goes College
SOURCED FROM THE BBC ARCHIVES
RESTORED CONCERT PERFORMANCE on REGION FREE NTSC DVD: (Audio selection of Stereo and 5.1 Surround Sound)
REMASTERED STEREO SOUNDTRACK CD
16-PAGE BOOKLET WITH AUTHORITATIVE LINER NOTES AND QUOTES FROM DEREK HOLT.
PERFORMANCE DATE: 'Live' from Birmingham Polytechnic, United Kingdom 3rd November, 1978
Rock Goes To College was a BBC series that ran between 1978 and 1981 on British television. Upcoming rock bands were showcased, and it was broadcast 'live' from small venues at University, Polytechnic and College halls, where tickets were often given free to students, ensuring a full capacity attendance and lively atmosphere.
Each performance would be a 40-50 minute set, and the original 'Sight & Sound' broadcasts were transmitted simultaneously on BBC TV and in Stereo on BBC Radio One.
The 1970s saw the Climax Blues Band from Stafford accelerate from a highly rated club act to US Top 40 regulars, then worldwide hitmakers in 1976 with 'Couldn't Get It Right' (US Top 3). They were only the sixth act to participate in the BBC series, playing Birmingham Polytechnic in November 1978.
This acclaimed performance has not been available on DVD+CD until now. One of the outstanding 'live' acts of the 70s decade, this show features the classic line-up of Pete Haycock (guitar / vocals) Colin Cooper (sax / harmonica / vocals), Derek Holt (bass / vocals), John Cuffley (drums) and Pete Filleul (keyboards).
Highlights include 'Couldn't Get It Right', a free-form slide guitar solo by Pete Haycock and a barnstorming 'All The Time In The World' with the Beatles' 'Get Back'.
Sleeve note contains original quotes from CBB's Derek Holt.
Tracklist
DVD:
Birmingham Polytechnic, United Kingdom
3rd November, 1978
1. Champagne And Rock'n'Roll
2. Introduction to the band (Pete Drummond)
3. Mistress Moonshine
4. Whatcha Feel
5. Slide Guitar Solo (by Pete Haycock) / Come On In My Kitchen
6. Couldn't Get It Right
7. All The Time In The World / Get Back
8. Going To New York
DVD running time: Approx. 40 mins
Region Free NTSC DVD. Audio selection of
Stereo and 5.1 surround sound
CD:
Birmingham Polytechnic, United Kingdom
3rd November, 1978
1. Champagne And Rock'n'Roll
2. Introduction to the band (Pete Drummond)
3. Mistress Moonshine
4. Whatcha Feel
5. Slide Guitar Solo (by Pete Haycock) /
Come On In My Kitchen
6. Couldn't Get It Right
7. All The Time In The World / Get Back
8. Going To New York
Soundtrack in Remastered Stereo
More Releases from Climax Blues Band