On The Groove Train - Volume 1 - 1975 - 1993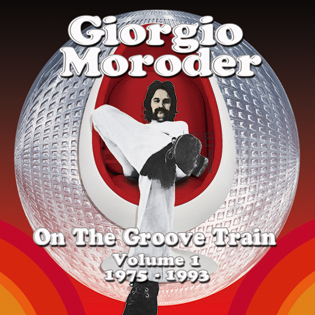 On The Groove Train - Volume 1 - 1975 - 1993
A cross section of the work of legendary disco producer Giorgio Moroder, ranging from the late great Donna Summer, whose career he launched, to many of his lesser-known protégés.
Moroder's Musicland Studios in Munich produced the most popular and influential disco music outside of America in the Seventies and Eighties, and this collection will educate as well as entertain. Musicians featured include studio house band Munich Machine, Americans Marsha Hunt, Roberta Kelly and Paul Engemann, and Brit Keith Forsey. The results were successful and influential internationally and remain so today.
Includes one-off German single, 'Carry On' - reuniting Moroder with Donna Summer - and was the first ever track to be awarded a Grammy for Best Dance Recording.
In-depth liner note by Michael Heatley details the many different vocal and instrumental permutations Moroder used to create his music, often re-working earlier releases or themes with different artists.
Expertly remastered – superb sound - top quality reproduction. The best in the business!
Tracklist
CD 1:
01. Lonely Lovers Symphony – BRIAN EVANS – Single A-side (Germany) Oasis 16534 AT, ℗ 1975
02. Crippled Words – BRIAN EVANS – Single B-side 'Lonely Lovers Symphony', (Germany) Oasis 16534 AT, ℗ 1975
03. Classically Elise (Elise 77) (Album version) – DINO SOLERA – Single A-side (USA) Hidden Sign DS 45101, ℗ 1976
04. Watch Out For The Boogie Man (Single version) – TRAX – Single A-side (Germany) Oasis 11606, ℗ 1977
05. Breathless (LP version) – TRAX – Single B-side of 'Watch Out For The Boogie Man', (Germany) Oasis 11606, ℗ 1977
06. Zodiacs – ROBERTA KELLY – Single A-side, (Germany) Atlantic ATL 10937, ℗ 1977
07. The Other Side Of Midnight – MARSHA HUNT – Single A-side (UK) Magnet Records 12 Mag 130, ℗ 1977
08. Heartache – MARSHA HUNT – Single B-side of 'The Other Side Of Midnight' (UK) Magnet 12 Mag 130, ℗ 1977
09. Love Fever – SPEED LIMIT – Single A-side, (Germany) Oasis 17687, ℗ 1977
10. Do It Now – SPEED LIMIT – Single B-side of 'Speed Limit-Love Fever', (Germany) Oasis 17687, ℗ 1977
11. Harmony (Long Version) – SUZI LANE – Single A-side, (Germany) Oasis 600140-213, ℗ 1979
12. Ooh, La La – SUZI LANE – Single B-Side of 'Harmony', Oasis (Germany) 600140-213, ℗ 1979
13. Get On The Funk Train– Part I (Single version) – MUNICH MACHINE – Single A-side 'Get On The Funk Train' Oasis 11607 (Germany), ℗ 1977
14. Party Light (Long Version) – MUNICH MACHINE – Single A-side 'Party Light', (Germany) Oasis 600 139, ℗ 1979
15. Bolectro – MUNICH MACHINE – Single B-side of 'Party Light', (Germany) Oasis 600 139, ℗ 1979
16. Hollywood Dreams (Instrumental) (Single version) – GIORGIO – Single A-side (USA) Casablanca Record and FilmWork, NB 2257, ℗1980
17. Virgin Mary – DONNA SUMMER – Single A-side (Netherlands) Groovy GR 1215, ℗ 1975
CD 2:
01. Watch Out For The Boogie Man! (Album version) – TRAX – From the album 'Trax – Watch Out', Oasis Records 28927, ℗ 1977
02. Dance – TRAX – From the album 'Oasis – The Sound Of Munich', Oasis 25827 (Germany) ℗ 1977
03. Get On The Funk Train – Part II – MUNICH MACHINE – Single B-side of 'Get On The Funk Train' Oasis 11607 (Germany), ℗ 1977
04. Take Me To The Pilot – KEITH FORSEY – Single A-side (Germany) Oasis 102 723-100, ℗ 1981
05. Hold On – KEITH FORSEY – Single B-side of ' Take Me To The Pilot', (Germany) Oasis 102 723-100, ℗ 1981
06. Dynamite – KEITH FORSEY – Single A-side, (France) Underdog Records 49968, ℗ 1981
07. Give Me The Right – KEITH FORSEY – Single B-side of 'Dynamite', (France) Underdog Records 49968, ℗ 1981
08. Turn The Stone – HELEN ST. JOHN – Single A-side ZB 8894 (France) ℗ 1982
09. Bad Boys – HELEN ST. JOHN – Single B-side 'Turn The Stone' (France) ZB 8894, ℗ 1982
10. Love Theme From 'Flashdance' (Instrumental) – HELEN ST. JOHN – Single B-side of 'Flashdance..What A Feeling', Polygram USA 811 440-7, ℗1983
11. Night Time Is The Right Time – GIORGIO MORODER feat. EDIE MARLENA – Single A-side, (Germany) Oasis 6144535, ℗1985
12. Shannon's Eyes (Single version) – GIORGIO MORODER & PAUL ENGEMANN – Single A-side, (Germany) Oasis 614328, ℗1985
13. Carry On (Extended Mix) – GIORGIO MORODER feat. DONNA SUMMER – Taken from (Germany) CD-Maxi (Track 1) Virgin, 665502, ℗1992
14. Flashdance… What A Feeling – DIANA DEWITT – Taken from the album 'Magic Movie Hits' (Germany) Polystar 516677-2, ℗1993
15. Let Your Body Shine (Album version) – MUNICH MACHINE – Single B-side 'Party Light / Let Your Body Shine', (Mexico), RCA Victory Disco Tec 57, ℗ 1979
16. Valley Of The Dolls (Instrumental) (Single version) – GIORGIO – Single B-side (USA) Casablanca Record and FilmWork, NB 2257, ℗1980
More Releases from Giorgio Moroder