Live at the BBC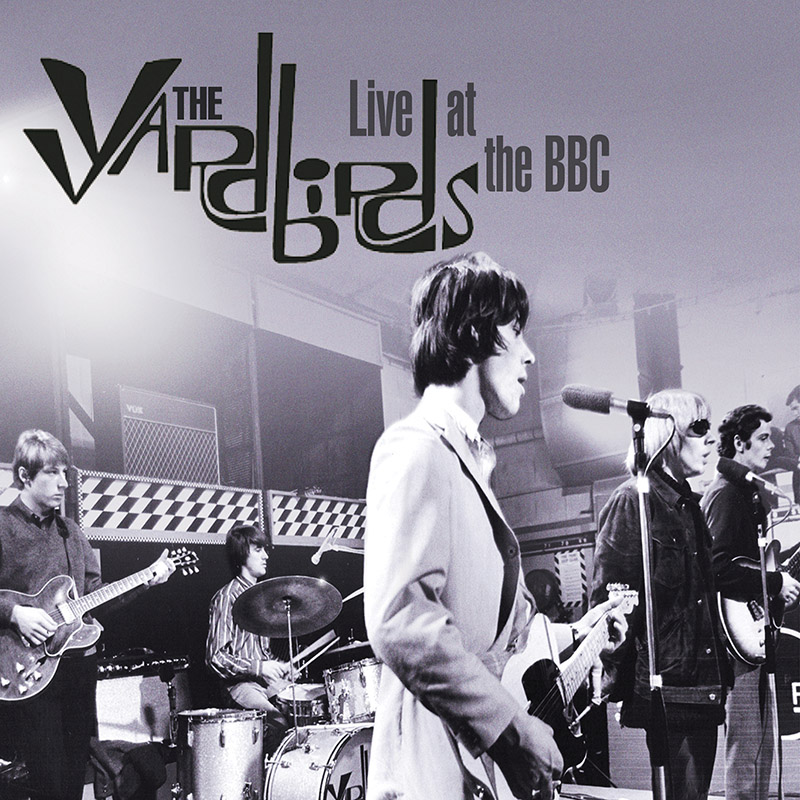 Live at the BBC
2CD set. 40 restored and remastered tracks. Over 1½ hours of music. Rare BBC archive recordings. Authoritative liner notes and new quotes.
The most comprehensive collection of the Yardbirds BBC 'live' recordings, assembled with the assistance of the BBC, with several tracks now all together the first time on this newly restored and remastered 2CD set.
Several tracks have been expertly repaired from rare, hard-to-find recordings and feature for the first time on this set.
Sourced from the BBC archives, this newly updated 40-track set covers numerous songs from the 1965-1968 period - including smash hits such as 'For Your Love', 'Heart Full Of Soul' and Yardbirds classic stage favourites 'Jeff's Boogie', 'Too Much Monkey Business', 'Smokestack Lightning', 'I'm A Man' and 'Train Kept A-Rollin''.
Featuring guitar legends Jeff Beck and Jimmy Page with front man Keith Relf, these sessions were recorded by the world renowned broadcasting organisation for radio transmission and our CDs explore all the available Yardbirds' BBC Radio One output.
Detailed data in the booklet, which also includes authoritative liner notes by Richard Morton Jack, editor of 'Flashback' magazine, and contains new quotes from Yardbirds' Jim McCarty and Paul Samwell-Smith.
Jim McCarty also adds an introduction exclusively for this the set, looking back at the BBC years.
---
YARDBIRDS BBC SESSIONS FEATURED ON METALTALK.NET:
Yardbirds BBC sessions are the roots of Beck, Page and Clapton
Tracklist
CD 1
01. I Ain't Got You
02. Interview – Keith Relf talks about the band's background
03. For Your Love
04. I'm Not Talking
Tracks 1-4 recorded 20th March, 1965
05. I Wish You Would
06. Interview – Paul Samwell-Smith talks about the USA tour
07. Heart Full Of Soul
08. I Ain't Done Wrong
Tracks 5-8 recorded 5th June, 1965
09. Too Much Monkey Business
10. Love Me Like I Love You
11. I'm A Man
12. Evil Hearted You
13. Interview – the 'Still I'm Sad' single
14. Still I'm Sad
Tracks 9-14 recorded August, 1965
15. Hang On Sloopy
Recorded 27th September, 1965
16. Smokestack Lightning (Full version)
Recorded 16th November, 1965
17. Interview – The Yardbirds give their New Year's resolutions
18. You're A Better Man Than I
19. The Train Kept A-Rollin'
20. Smokestack Lightning
Tracks 17-20 recorded December, 1965
21. Heart Full Of Soul (Alternative version)
Recorded 5th June, 1965
CD 2
01. Shapes Of Things
02. Dust My Broom
Tracks 1 & 2 recorded February, 1966
03. You're A Better Man Than I
Recorded 28th February, 1966
04. Baby, Scratch My Back
05. Interview – Keith Relf talks about his solo single
06. Over, Under, Sideways, Down
07. The Sun Is Shining
08. Interview – Keith Relf talks about the USA tour
09. Shapes Of Things (Version 2)
10. The Sun Is Shining (Full version)
Tracks 4-10 recorded 6th May, 1966
11. Over, Under, Sideways, Down
12. Interview – Barry Fantoni talks about Jeff Beck's guitar
Tracks 11 & 22 from BBC One's 'A Whole Scene Going', 1966
13. Most Likely You Go Your Way (And I'll Go Mine)
14. Little Games
15. Drinking Muddy Water
Tracks 13-15 recorded 17th March, 1967
16. Think About It
17. Interview – with ace guitarist Jimmy Page
18. Goodnight Sweet Josephine
19. My Baby
Tracks 16-19 recorded 6th March, 1968
All tracks recorded in Mono
More Releases from Yardbirds, The