If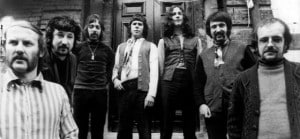 If conquered the 1970s jazz-rock scene in Europe and America with dynamic and sophisticated 'live' performances and a series of critically acclaimed albums. Powerhouse vocalist J.W.Hodkinson elevated the group beyond the boundaries of jazz-fusion with his soulful delivery. His commanding voice and the band's musicianship was complimented by Miles Davis when he heard them play in a New York club in 1970. He growled approvingly 'They don't sound white.'
If had grown up playing jazz in small clubs but thrived when the more open minded rock scene encouraged experimentation. The band then found themselves playing alongside Black Sabbath and Rod Stewart at major rock concerts.
If comprised the late Dick Morrissey (tenor sax, soprano and flute), Dave Quincy (alto and tenor sax), Terry Smith (guitar), John Mealing (keyboards), Jim Richardson (bass) and Dennis Elliott (drums). Inspired by Blood, Sweat & Tears and Chicago, they were determined to establish their own style when they teamed up in London in 1969.
With American manager Lew Futterman ready to help, the band signed to Island Records. Their debut album 'If' (1970) in its distinctive silver cover, was a success and led to three more albums. On US tours If supported Traffic, Muddy Waters, Laura Nyro, Miles Davis and Grand Funk Railroad. But after years on the road the first version split up in 1972 after Dick Morrissey became ill. He subsequently died on November 8, 2000 aged 60. The band's fine albums, including a 'Best Of' compilation, have been re-issued on Repertoire CDs.
Releases
Videos