Live at Rockpalast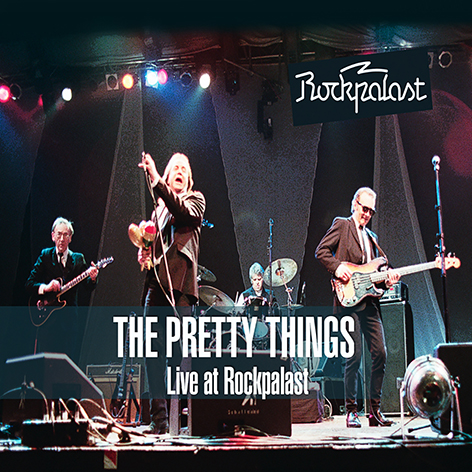 Live at Rockpalast
MASTERED AT ABBEY ROAD STUDIOS
SOURCED FROM THE WDR ARCHIVES
PERSONAL QUOTES FROM ALL OF THE BAND WITH THEIR RECOLLECTIONS OF THE EVENT FEATURE IN THE EXTENSIVE LINER NOTES.
*************************************************************
'LIVE AT ROCKPALAST: Christmas Special'
Philipshalle, Düsseldorf, Germany, 19th December, 1998 
Rockpalast's 1998 show was the Christmas Special from Düsseldorf on 19th December, supporting Van Morrison. It was broadcast across Germany and Europe to more than 20 million people.
The Pretty Things first formed in 1963 around the nucleus of ex-Rolling Stone Dick Taylor and vocalist Phil May. They had a hit with first single 'Rosalyn' in 1964 and continued to chart in R&B vein before turning psychedelic/progressive. Highlights from the group's history include 1968's 'S.F. Sorrow' concept album, credited as the inspiration for the Who's 'Tommy'. 1970's 'Parachute' LP was Rolling Stone magazine's album of the year, and the band enjoyed a renaissance in the 1970s on Swan Song Records, Led Zeppelin's label, before going independent right up to date.
Phil May and Dick Taylor still front The Pretty Things and the band continues to put on stunning 'live' shows and produce great albums.
Tracklist

RECORD 1
Side A
1. Roadrunner
2. Don't Bring Me Down
3. Havana Bound
Side B
1. S.F. Sorrow Is Born
2. Baron Saturday
3. Private Sorrow
4. Balloon Burning
5. Loneliest Person
RECORD 2
Side A
1. Come See Me
2. Cries From The Midnight Circus
3. Judgement Day
Side B
1. L.S.D.
2. Old Man Going
3. Route 66
First released on DVD+CD (UK) Repertoire, REPUK 1204, ℗2014
More Releases from Pretty Things, The