Live at Rockpalast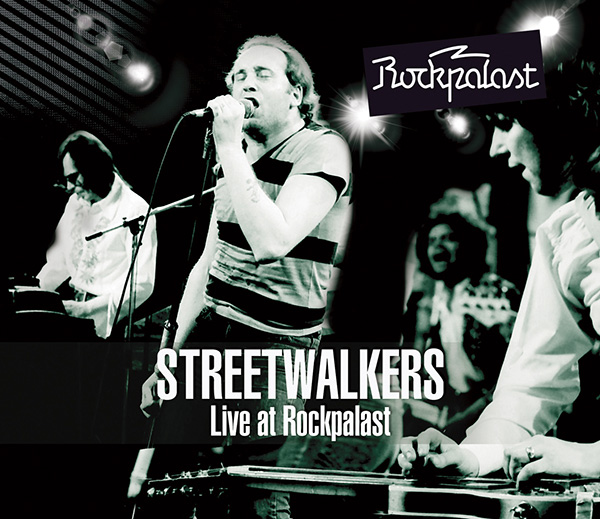 Live at Rockpalast
Two separate previously unreleased performances on one DVD and two CDS! Chapman-whitney Streetwalkers - Live At Rockpalast (WDR-Studio L, Köln, 25.03.1975), and Streetwalkers - Live At Rockpalast (WDR-Studio L, Köln, 19.04.1977).
The two shows total just under 2½ hours of film footage. The 1977 show includes footage of the band running through a 'first take' set, before re-starting with the 'second take' - with other songs in the mix. Both full sets are included here!)
Restored concert performanec on region free NTSC DVD, Audio selection of Stereo and 5.1 Surround Sound.
Remastered stereo soundtrack CDs.
Triple value pack: DVD for your on-screen viewing pleasure + 2CDs to play on your HiFi, portable or in-car
ROCKPALAST is a legendary 'live' music TV show hosted in Germany by the WDR channel. It first broadcast in 1974 and has become a pan-European television institution. It has its own fan club and online forum, and in almost four decades, it has become a trademark of quality viewing and listening.
Fun, interesting and raunchy - a proper band with a great vocalist, and real instruments playing real music – that's what the Streetwalkers were all about!
The band continued the partnership of vocalist Roger Chapman and guitarist Charlie Whitney, the songwriting duo at the heart of legendary British progressive band Family (formed 1967, disbanded 1973). Although the Streetwalkers were somewhat sidelined during the punk era back home in Britain, they remained consistent concert attractions in Europe. Now is the time for reassessment – the recent Family reunion concerts and reissues proved a strong market exists, and Roger Chapman has a strong web presence.
Two different backing bands perform on this DVD, both led by guitarist Bob Tench (Humble Pie, Jeff Beck). The 1975 show features Jonathan Plotel (bass) and future Iron Maiden man Nicko McBrain (drums). This line up recorded the albums 'Downtown Flyers' (1975) and 'Red Card' (1976). The 1977 line-up includes Michael Feat (bass), David Dowle (drums) and Brian Johnstone (keyboards) both of whom went on to Whitesnake. This line up recorded the album 'Vicious But Fair' (1977).
Features key songs from both Streetwalkers' and Family's back catalogues, with iconic Family songs 'Burlesque' and 'My Friend The Sun'.
Includes informative 24 page booklet with authoritative twin liner notes - in English by respected author and journalist Chris Welch and in German by journalist and broadcaster Uli Kniep.
Expertly restored and remastered. Superb vision, outstanding sound. The best in the business!
Tracklist
DVD: (2 shows on one disc).
Show 1: Chapman-Whitney Streetwalkers – Live At Rockpalast (WDR-Studio L, Köln, 25.03.1975)
01. Downtown Flyers
02. Walking On Waters
03. Tokyo Rose
04. Hangman
05. Toenail Draggin'
06. My Friend The Sun
07. Crawfish
08. Burn It Down
09. Burlesque
Show 2: Streetwalkers – Live At Rockpalast (WDR-Studio L, Köln, 19.04.1977)
The 'first take' set:
01. Intro
02. Toenail Draggin'
03. Mama Was Mad
04. Chili Con Carne
05. Me An' Me Horse An' Me Rum
06. Dice Man
The 'second take' set:
07. Toenail Draggin'
08. Mama Was Mad
09. Me An' Me Horse An' Me Rum
10. Crazy Charade
11. Run For Cover
12. Burlesque
13. Can't Come In
CDs:
CD1:
01. Downtown Flyers
02. Walking On Waters
03. Tokyo Rose
04. Hangman
05. Toenail Draggin'
06. My Friend The Sun
07. Crawfish
08. Burn It Down
09. Burlesque
Tracks 1-9 from Chapman-Whitney Streetwalkers – Live At Rockpalast (WDR-Studio L, Köln, 25.03.1975)
CD2:
The 'first take' set:
01. Toenail Draggin'
02. Mama Was Mad
03. Chili Con Carne
04. Dice Man
The 'second take' set:
05. Toenail Draggin'
06. Mama Was Mad
07. Me An' Me Horse An' Me Rum
08. Crazy Charade
09. Run For Cover
10. Burlesque
11. Can't Come In
Tracks 1-12 from Streetwalkers – Live At Rockpalast (WDR-Studio L, Köln, 19.04.1977)
More Releases from Streetwalkers
Not found any release