Live at Rockpalast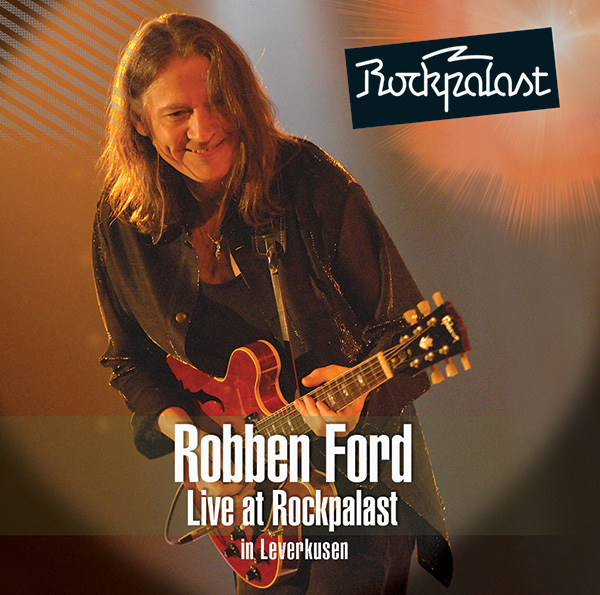 Live at Rockpalast
2 SEPARATE PREVIOUSLY UNRELEASED PERFORMANCES ON ONE DVD AND TWO CDS
ROBBEN FORD: 'Live At Rockpalast', Leverkusen Jazztage, Forum Leverkusen, Germany, 5th November, 2007
ROBBEN FORD & THE BLUE LINE: 'Live At Rockpalast', Crossroads & More Bluesfest, Leverkusen, Germany 25th April, 1998
The two shows total over 118 minutes of film footage.
RESTORED CONCERT PERFORMANCE on REGION FREE NTSC DVD: (Audio selection of Stereo and 5.1 Surround Sound)
REMASTERED STEREO SOUNDTRACK CDs
TRIPLE VALUE PACK: DVD for your on-screen viewing pleasure + 2CDs to play on your HiFi, portable or in-car.
ROCKPALAST is a legendary 'live' music TV show hosted in Germany by the WDR channel. It first broadcast in 1974 and has become a pan-European television institution. It has its own fan club and online forum, and in almost four decades, it has become a trademark of quality viewing and listening.
A five-time Grammy nominee and named as one of the 100 Greatest Guitarists of the 20th Century by Musician magazine, Robben Ford is a premier American blues and jazz guitarist who has played with stellar artists as diverse as Miles Davis, Bob Dylan, Joni Mitchell, Greg Allman, Bonnie Raitt, John Mayall and George Harrison.
Our two concerts took place almost a decade apart. The first, in April 1998, was at the Leverkusen Bluesfest, with a band comprising Neil Larsen on keyboards plus Blue Line stalwarts Roscoe Beck on bass and Tom Brechtlein on drums.
Highlights include 'The Brother', the impressive opening cut from the Blue Line's 1992 debut recording that was inspired by the late Stevie Ray Vaughan, while The first three numbers played, Paul Butterfield's 'Lovin' Cup', Charlie Singleton's 'Help The Poor' and the Duke Ellington-penned 'You Ain't Nothin' But The Blues', were all performed acoustically. The second, in Leverkusen in 2007, saw him backed by Travis Carlton on bass (guitar legend Larry Carlton's son) and Toss Panos on drums. They each feature on the extended 'The Way You Treated Me'. Highlights of the TV performance include the title track of the 1999 album 'Supernatural', and a tribute to BB King in 'Riley B. King', written with Keb Mo. This and other highlights 'How Deep in the Blues (Do You Want To Go)', 'Lateral Climb', 'Too Much' and 'Peace On My Mind' come from his concurrent Grammy-nominated album 'Truth' (2007). Robben Ford is, without doubt, one of the Guitar Greats, and this spot-on performance will delight all fans of well-crafted and highly refined guitar playing.
Expertly restored and remastered. Superb vision, outstanding sound. The best in the business!
Tracklist
DVD: (2 shows on one disc)
(1) ROBBEN FORD
'Live At Rockpalast'
Leverkusen Jazztage:
Forum Leverkusen, Germany
5th November, 2007
01. Intro
02. How Deep In The Blues (Do You Want To Go)
03. Lateral Climb
04. Indianola
05. The Way You Treated Me
06. Riley B. King
07. Don't Deny Your Love
08. Cannonball Shuffle
09. Too Much
10. Peace On My Mind
11. Lovin' Cup
12. Supernatural
13. Interview (with Robben Ford)
14. There'll Never Be Another You
(Approx. run-time: 74 mins)
(2) ROBBEN FORD & THE BLUE LINE:
'Live At Rockpalast'
Crossroads & More Bluesfest
Leverkusen, Germany
25th April, 1998


01. Lovin' Cup

02. Help The Poor

03. Ain't Got Nothin' But The Blues

04. Chevrolet

05. Miller's Son

06. Tired Of Talkin'

07. The Brother

(Approx. run-time: 44 mins)
Region Free NTSC DVD. Audio selection of Stereo and 5.1 surround sound.
CDs:
CD 1:
01. How Deep In The Blues (Do You Want To Go)
02. Lateral Climb
03. Indianola
04. The Way You Treated Me
05. Riley B. King
06. Don't Deny Your Love
07. Cannonball Shuffle
08. Too Much
09. Peace On My Mind
10. Lovin' Cup
11. Supernatural
12. There'll Never Be Another You
CD 1, tracks 1-12 from
ROBBEN FORD
'Live At Rockpalast'
Leverkusen Jazztage
Forum Leverkusen, Germany
5th November, 2007
CD 2:
01. Lovin' Cup

02. Help The Poor

03. Ain't Got Nothin' But The Blues

04. Chevrolet

05. Miller's Son

06. Tired Of Talkin'

07. The Brother

CD 2, tracks 1-7 from
ROBBEN FORD & THE BLUE LINE
'Live At Rockpalast'
Crossroads & More Bluesfest
Leverkusen, Germany
25th April, 1998

Soundtrack in Remastered Stereo
More Releases from Robben Ford
Not found any release