Live At Rockpalast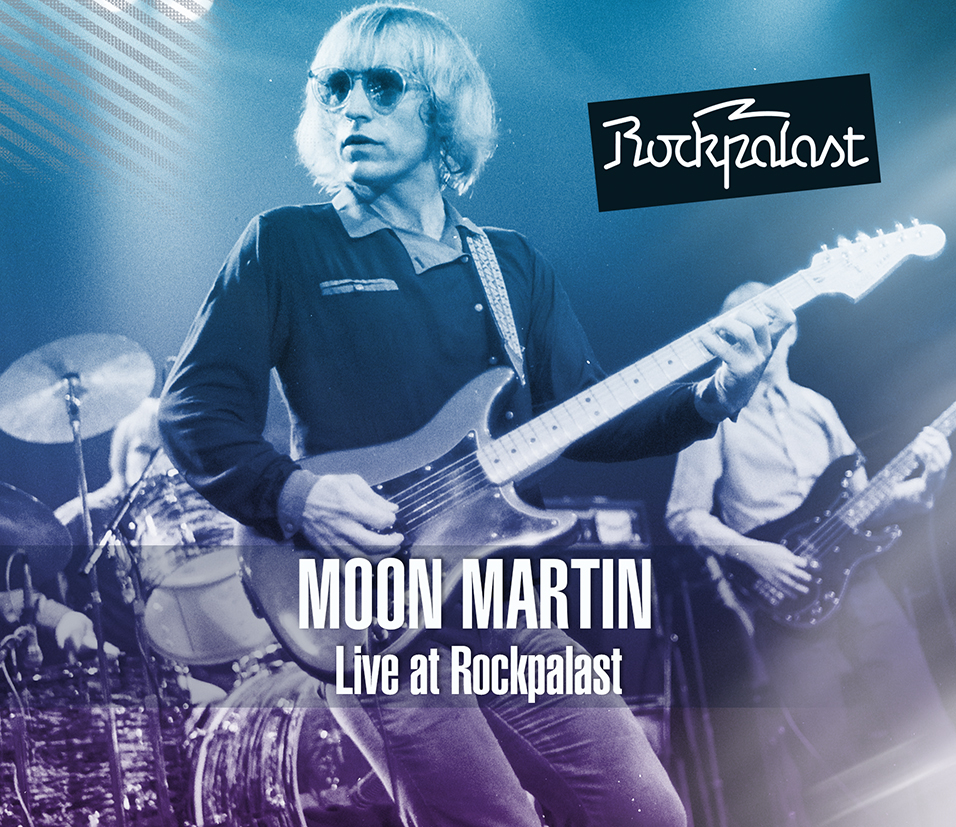 Live At Rockpalast
FULL SET FROM THE 1981 ROCKPALAST SHOW IN HAMBURG
OVER 1½ HOURS OF FILM FOOTAGE
RESTORED CONCERT PERFORMANCE on REGION FREE NTSC DVD: (Audio selection of Stereo and 5.1 Surround Sound)
REMASTERED STEREO SOUNDTRACK CDs
TRIPLE VALUE PACK: DVD + 2CDs
16-PAGE BOOKLET WITH DETAILED LINER NOTES AND NEW INTERVIEW WITH MOON MARTIN
PERFORMANCE DATE: Live at Rockpalast, Markthalle, Hamburg, Germany 21st January, 1981
Oklahoma-born John 'Moon' Martin is an American singer-songwriter whose songs were picked up and turned into hits by others. He was an underrated performer and perennially popular in Europe, having first toured there in late 1979. In the USA he opened for Cheap Trick, Rockpile and Joe Jackson.
The name 'Moon' was added to distinguish him from Brit songsmith John Martyn, and it also recognises his frequent use of lunar-related imagery in lyrics. He was described by author Johnny Rogan as 'a cross between Buddy Holly, Warren Zevon and John Denver'. His late 60s session career as a 'guitarist-for-hire' saw him backing Del Shannon, Jackie DeShannon, Gram Parsons and Linda Ronstadt. He wrote much of 'Mama' Michelle Phillips' debut solo album, 'Victim Of Romance' (1977). His 70s band Southwind shared stages with the Byrds and the Flying Burrito Brothers. He also found fame in the New Wave era, when he was backed by musicians from Blondie and was produced by Jack Nitzsche (whom he shared with Mink DeVille - hence the latter artist's covers of 'Rolene' and 'Cadillac Walk').
This Rockpalast show contains Moon's original versions of 'Rolene' (a US Top 30 hit for Moon in 1979 and also for Mink DeVille); 'Cadillac Walk' (Mink DeVille); 'I've Got A Reason' (Rachel Sweet); and 'Bad Case Of Loving You' (Robert Palmer - a US Top 20 hit).
Sleeve notes by music journalist Michael Heatley (who recalls attending a packed Marquee Club gig by Moon Martin in November 1979, and now talks to the artist in an exclusive new interview for the liner notes). Expertly restored and remastered. Superb vision, outstanding sound. The best in the business!
Tracklist
DVD:
MOON MARTIN
Live at Rockpalast
Markthalle, Hamburg, Germany
21st January, 1981
1. Intro
2. She's A Pretender
3. Hands Down
4. Hot Nite In Dallas
5. S.O.S.
6. Five Days Of Fever
7. Bootleg Woman
8. Paid The Price
9. Bad News
10. Breakout Tonight
11. Whispers
12. Gun Shy
13. Lawdy Miss Clawdy
14. Pushed Around
15. Night Thoughts
16. Deeper (Into Love)
17. Rollin' In My Rolls
18. I've Got A Reason
19. No Chance
20. Havanna Moon
21. Hot House Baby
22. Heartbreak Hotel
23. Rolene
24. Bad Case Of Loving You
25. Cadillac Walk
26. Boogie Woogie Country Girl
27. No Dice
(Duration: approx.1½ hours)
2CDs:
MOON MARTIN
Live at Rockpalast
Markthalle, Hamburg, Germany
21st January, 1981
CD1:
1. She's A Pretender
2. Hands Down
3. Hot Nite In Dallas
4. S.O.S.
5. Five Days Of Fever
6. Bootleg Woman
7. Paid The Price
8. Bad News
9. Breakout Tonight
10. Whispers
11. Gun Shy
12. Lawdy Miss Clawdy
13. Pushed Around
14. Night Thoughts
CD2:
1. Deeper (Into Love)
2. Rollin' In My Rolls
3. I've Got A Reason
4. No Chance
5. Havanna Moon
6. Hot House Baby
7. Heartbreak Hotel
8. Rolene
9. Bad Case Of Loving You
10. Cadillac Walk
11. Boogie Woogie Country Girl
12. No Dice
More Releases from Moon Martin
Not found any release