Live at Rockpalast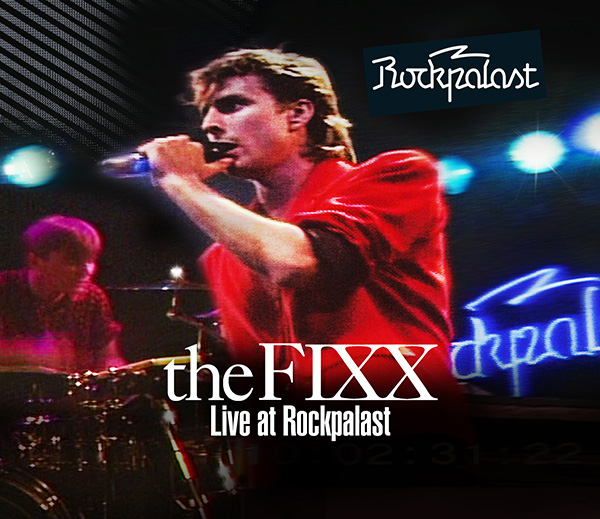 Live at Rockpalast
RESTORED CONCERT PERFORMANCE on REGION FREE NTSC DVD: (Audio selection of Stereo and 5.1 Surround Sound)
REMASTERED STEREO SOUNDTRACK CD
ROCKPALAST is a legendary 'live' music TV show hosted in Germany by the WDR channel. It first broadcast in 1974 and has become a pan-European television institution. It has its own fan club and online forum, and in almost four decades, it has become a trademark of quality viewing and listening.
PERFORMANCE DATE: Markthalle Hamburg, 22 February 1985 The Fixx was something of an anomaly on the British music scene as the 1970s gave way to the 1980s – as they were a 'New Wave' quintet that enjoyed far more success in the USA and continental Europe than they did back home in the UK.
The Fixx wrote and recorded melodic, concise New Wave Rock, led by the powerful and emotive vocals of Cy Curnin, with the strong guitar work of Jamie West-Oram and keyboards of Rupert Greenall offering contrasting musical depth and texture.
The band was a mainstay of the early days of MTV, with the videos for hits such as 'Red Skies' and 'Stand Or Fall' receiving heavy rotation airplay. This, and their willingness to tour the USA, ensured that they became one of the most successful British acts in the States in the mid-1980s, and - unlike many of their 1980s contemporaries - their music has stood the test of time extremely well.
Their commercial peak came with the album 'Reach The Beach' (1983) and their follow-up, 'Phantoms', was the album being promoted when they recorded this 'live' session on 22nd February, 1985. It is a heady mix of the US hit singles, with choice tracks from their albums, and the DVD shows the kind of powerful performance that turned them at the time into a popular 'live' attraction.
The detailed liner notes include new quotes from the band.
Expertly restored and remastered. Superb vision, outstanding sound. The best in the business!
Tracklist
DVD:
01. Intro
02.   Privilege
03. Question
04.   Lose Face
05. Stand Or Fall

06. Less Cities, More Moving People
07. Are We Ourselves?
08. In Suspense
09. Wish
10. Sunshine In The Shade

11. The Fool
12. One Thing Leads To Another
13. Saved By Zero
14. Lost In Battle Overseas
15. Deeper And Deeper
16. Red Skies
17. Reach The Beach

18. Running

Running time: approx. 82mins Region Free NTSC DVD. Audio selection of Stereo and 5.1 surround sound
CD:
01.   Privilege

02. Question

03.   Lose Face
04. Stand Or Fall
05. Less Cities, More Moving People

06. Are We Ourselves?
07. In Suspense
08. Wish

09. Sunshine In The Shade

10. The Fool

11. One Thing Leads To Another

12. Saved By Zero
13. Lost In Battle Overseas
14. Deeper And Deeper

15. Red Skies
16. Reach The Beach
17. Running 

More Releases from Fixx, The
Not found any release