Live at Rockpalast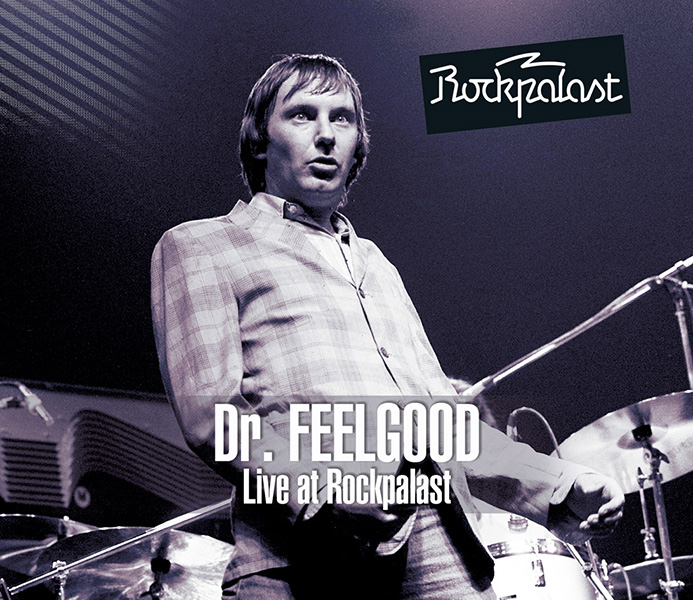 Live at Rockpalast
RESTORED CONCERT PERFORMANCE on REGION FREE NTSC DVD: (Audio selection of Stereo and 5.1 Surround Sound)
REMASTERED STEREO SOUNDTRACK CD
ROCKPALAST is a legendary 'live' music TV show hosted in Germany by the WDR channel. It first broadcast in 1974 and has become a pan-European television institution. It has its own fan club and online forum, and in almost four decades, it has become a trademark of quality viewing and listening.
PERFORMANCE DATE: METROPOL, BERLIN, 31 OCTOBER, 1980. This appearance at the Metropol was Dr Feelgood's only Rockpalast booking and its official release has long been sought after by fans. The legendary Canvey Island R&B band's second classic line-up features on this set, with Lee Brilleaux (vocals, harmonica), John B. Sparkes (bass) and The Big Figure (drums) joined by guitarist John 'Gypie' Mayo. It was one of the last recordings of the band with John Mayo (co-writer of 'Milk And Alcohol' with Nick Lowe) who subsequently left in March 1981.
Features the title track from 1976's UK No.1 album 'Stupidity', plus hit singles from the Mark II era 'Milk And Alcohol', 'She's A Windup' and 'Down At The Doctors'.
Informative booklet with twin liner notes - in English by Will Birch, noted British journalist, broadcaster, author ('No Sleep Till Canvey Island - The Great Pub Rock Revolution'), expert on the Pub Rock and the 'Southend Rock' scene (of which Dr Feelgood were the leading exponents) - and in German by noted journalist and broadcaster Uli Kniep. Expertly restored and remastered. Superb vision, outstanding sound. The best in the business!
Tracklist
DVD:
01. Intro
02. Best In The World
03. Who's Winning
04. Java Blue
05. Jumping From Love To Love
06. Stupidity
07. Riding On The L&N
08. Back In The Night
09. No Mo Do Yakomo
10. Love Hound
11. Case Of The Shakes
12. Shotgun Blues
13. You Upset Me Baby
14. Drives Me Wild
15. Milk And Alcohol
16. Down At The Doctors
17. She's A Windup
18. Riot In Cell Block No. 9
19. Roxette
Region Free NTSC DVD. Audio selection of Stereo and 5.1 surround sound.
CD:
01. Best In The World
02. Who's Winning
03. Java Blue
04. Jumping From Love To Love
05. Stupidity
06. Riding On The L&N
07. Back In The Night
08. No Mo Do Yakomo
09. Love Hound
10. Case Of The Shakes
11. Shotgun Blues
12. You Upset Me Baby
13. Drives Me Wild
14. Milk And Alcohol
15. Down At The Doctors
16. She's A Windup
17. Riot In Cell Block No. 9
18. Roxette
Soundtrack In Remastered Stereo
More Releases from Dr. Feelgood
Not found any release