On Air - Live At The BBC & Other Transmissions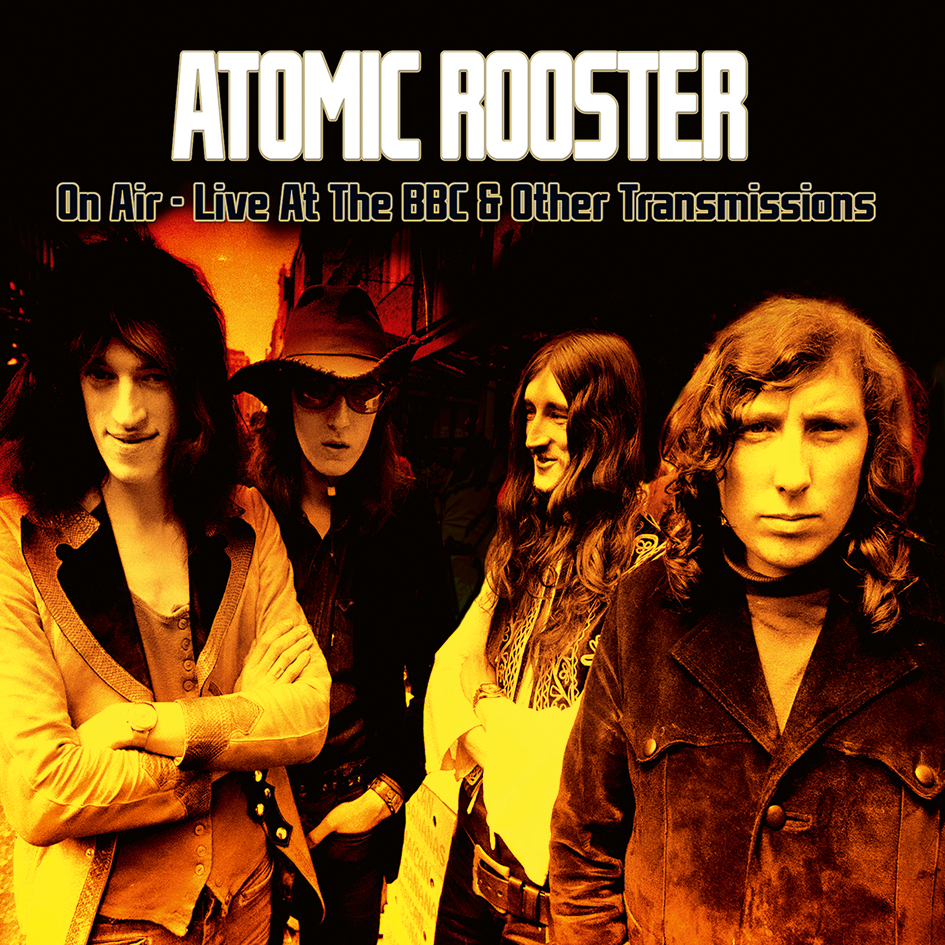 On Air - Live At The BBC & Other Transmissions
3 disc brilliant box & slipcase package: 2 audio CD + 1 region free DVD
Interview with Chris Farlowe and liner notes written by Chrish Welch
Featuring live recordings from:
Paris Theatre London for BBC TV, 1972 (audio only)
Beat Club on German TV, 1972 (audio and visual)
Pop Shop on Belgian TV, 1972 (audio and visual)
An outstanding keyboard player and composer, Vincent Crane was the founder of Atomic Rooster, one of the finest progressive rock groups of the super-charged Seventies. When he teamed up with soul singer Chris Farlowe, the mighty Rooster became even more exciting. We can enjoy the fruits their dynamic collaboration one more time, thanks to this unmissable collection of historic recordings from the archives. Our package includes an audio CD Live In London 1972 from a BBC radio show that has Chris singing Rooster classics like 'Devil's Answer', backed by Vincent's powerhouse organ.   DVD and CD versions of The Lost Broadcasts reveal early 1970s colour video footage and audio from German TV's Beat Club. Chris Farlowe sings different takes of 'Black Snake' and 'Breakthrough' and the frantic guitar of the late John Du Cann is included on tracks like 'Sleeping For Years' and 'I Can't Take Anymore'.   Extensive CD liner notes by Repertoire's Chris Welch tell the story of the band with contributions from Chris Farlowe recalling his days in Atomic Rooster.
Tracklist
CD 1
BBC Radio 1 – Live In Concert (Paris Theatre, London, 27/07/72)
01 Breakthrough
02 Stand By Me
03 People You Can't Trust
04 A Spoonful Of Bromide Helps The Pulse Rate Go Down
05 All In Satan's Name
06 Devil's Answer
Beat Club (Live On German TV 1970-1972)
07 Save Me
08 Sleeping For Years
09 Vug
10 Tomorrow Night
11 I Can't No More
12 Black Snake
13 Breakthrough
CD 2
Pop Shop (Live On Belgian TV 05/10/72)
01 Breakthrough
02 Black Snake
03 A Spoonful Of Bromide Helps The Pulse Rate Go Down
04 Can't Find A Reason
05 The Rock
DVD
Beat Club (Live On German TV 1970-1972)
01 Save Me
02 Sleeping For Years
03 Vug
04 Tomorrow Night
05 I Can't Take No More
06 Black Snake
07 Breakthrough
08 Black Snake (Alternate Camera Version)
09 Breakthrough (Alternate Camera Version)
Pop Shop (Live On Belgian TV 05/10/72)
10 Breakthrough
11 Black Snake
12 A Spoonful Of Bromide Helps The Pulse Rate Go Down
13 Can't Find A Reason
14 The Rock
More Releases from Atomic Rooster