Live at Rockpalast (2008)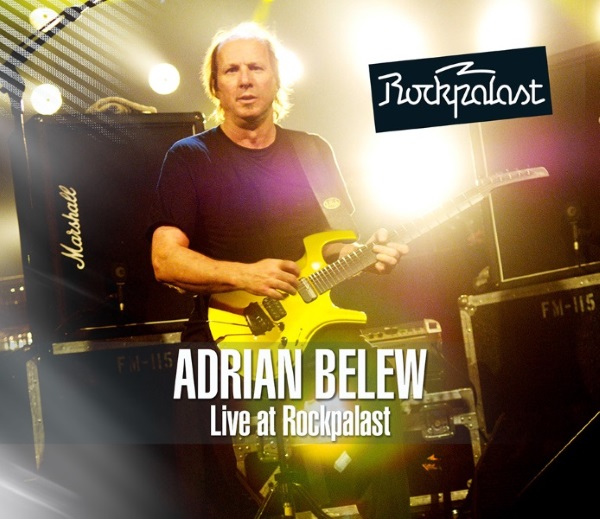 Live at Rockpalast (2008)
RESTORED CONCERT PERFORMANCE on REGION FREE NTSC DVD: (Audio selection of Stereo and 5.1 Surround Sound)
REMASTERED STEREO SOUNDTRACK CD
16-PAGE BOOKLET WITH DETAILED LINER NOTES, INCLUDING QUOTES FROM ADRIAN BELEW.
PERFORMANCE DATE: Live at Rockpalast, Forum, Leverkusen, Germany 3rd November, 2008
Master US guitarist, who has played with Frank Zappa and David Bowie, Talking Heads, Nine Inch Nails and Paul Simon. He is also long-time musical partner of Robert Fripp, leader of British Prog band King Crimson.
This concert from November 2008 features Adrian fronting his Power Trio at a festival event in Leverkusen, Germany, the results being broadcast Europe-wide by Rockpalast.
The trio includes bassist Julie Slick with her younger brother Eric, young discoveries from Philadelphia and together a phenomenal rhythm section. The set list includes new originals, material from Belew's solo career and his work with King Crimson, interspersed with two segments of interview footage.
The informative booklet by Guitar & Bass journalist Michael Heatley includes quotes from Adrian Belew.
Expertly restored and remastered. Superb vision, outstanding sound. The best in the business!
Tracklist
DVD:
1. Writing On The Wall
2. Ampersand
3. Dinosaur
4. Beat Box Guitar
5. Interview 1 (with Adrian Belew)
6. A Little Madness
7. Of Bow And Drums
8. E
9. Three Of A Perfect Pair
10. Interview 2 (with Adrian Belew)
11. Thela Hun Ginjeet
DVD running time: Approx. 60 mins
Region Free NTSC DVD. Audio selection of
Stereo and 5.1 surround sound
CD:
1. Writing On The Wall
2. Ampersand
3. Dinosaur
4. Beat Box Guitar
5. A Little Madness
6. Of Bow And Drums
7. E
8. Three Of A Perfect Pair
9. Thela Hun Ginjeet
Soundtrack in Remastered Stereo
More Releases from Adrian Belew
Not found any release